Your Eastern Michigan Bank debit card now works with Apple Pay® and Google Pay™
What is a mobile wallet?
A mobile wallet is an app that allows you to store information from credit cards and debit cards on your smartphone. Mobile wallets offer a safe and easy way to make purchases in-store or online, without having to carry cash or physical cards.
Apple Pay®
and
Google Pay™
are two of the most common mobile wallets.

It's Easy
Check your device for Apple Pay® or Google Pay™ --  a lot of devices come with them already installed. If you do not have a mobile wallet app pre-installed, download the app compatible with your smartphone (Apple Pay® for iPhone or Google Pay™ for Android devices). Select "Add to Wallet" or tap the "+" to add your Eastern Michigan Bank debit card and follow the instructions. There are no sign-up fees or monthly service charges.
It's Convenient
You can use a mobile wallet at more than a million stores across the U.S. and this number is growing all the time. Look for this symbol when you're ready to check out: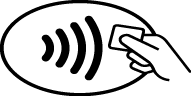 You can even use it for online purchases, eliminating the need to enter all your card information every time you buy something.
It's Secure
Mobile wallets have built-in protection (such as a PIN, face recognition, thumbprint, etc.) and use random payment codes that change with every transaction, so even if your phone is stolen, the cards in your mobile wallet won't be accessed.